Our first nest came very early this year.  Mama Loggerhead laid 120 eggs in the beach nourishment area so the nest had to be relocated out of harms way.
Mike Bordell from Ft Myers Florida called the NEST hotline in the morning and stood guard over the eggs until NEST volunteers arrived. thanks Mike!!!!   Responders verified the nest and found the eggs in under a minute and worked hard to relocate the nest asap.
This is the third year of our temperature study.  We bury Bluetooth temperature data loggers in each nest and are able to estimate hatching times and the ratio of male to female hatchlings.  As we gather more data we hope to become more and more accurate on our predictions. If the temperature of the nest is around 84.6 degrees F hatchlings will be 50%-50% male and female. Warmer temperatures favor females and cooler temperatures favor males.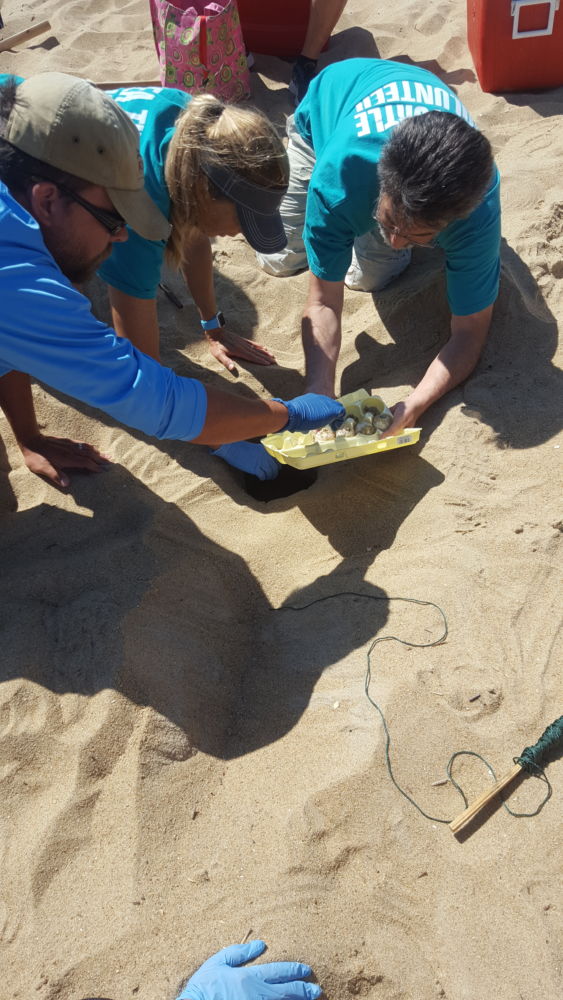 Volunteers placing eggs in the new nest site.
After the eggs were buried we all went home to wait for another nest to be laid!!
UPDATE:  Photos below taken at Nest 1 2019 by Stephanie W, photographer extraordinaire!
nest number: 1
town: Nags Head
date eggs laid: 05/22/2019
begin monitoring: 07/16/2019
actual emergence date: 7/17/19
live hatchlings: 114
total eggs: 123
See all active nests