The drought is finally over!!! Nest 22 was laid today in kitty hawk and found by Billy😎on this beautiful morning.
So momma Turtle left us with a quandary, where in this big pile of sand, did you actually lay your eggs
On the first guess Lynn found the eggs. Good job because it could have taken a lot longer to find them. We then had to relocate the nest, since mom laid the eggs at the high tide line.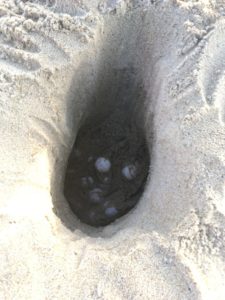 106 total eggs.
while we were getting the eggs out of the nest, pam and bob were already digging the hole for the new nest.
thanks to everyone who showed up this morning. Good job team #22
nest number: 22
town: Kitty hawk
date eggs laid: 07/25/2019
begin monitoring: 09/18/2019
actual emergence date: 9/21/19
live hatchlings: 6
total eggs: 106 all but 7 eggs were washed away by Dorian
See all active nests