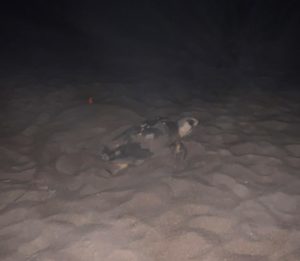 A turtle mom is busy laying her nest of eggs on the beach of Southern Shores in the early evening hours.  If you look close you can see tear stains around her eyes which is a normal process where turtles get rid of excess sea salt.
Here is the nest of eggs along with a data logger tucked neatly in the middle.  The data logger collects temperature data to help predict when these eggs will turn into hatchlings and dig their way out of their sandy nest and head for the ocean.
Congratulations to Nest #24 responding team, some who came out the night before to protect the turtle mom laying her eggs and then again in the morning to secure the nest and collect data.
UPDATE:
Just received this cool picture of mother turtle coming up on the beach of Southern Shores to lay this nest.  Not sure who took the picture but thank you to whoever did!!
nest number: 24
town: Southern Shores
date eggs laid: 07/26/2019
begin monitoring: 09/19/2019
total eggs: Lost to Hurricane Dorian
See all active nests