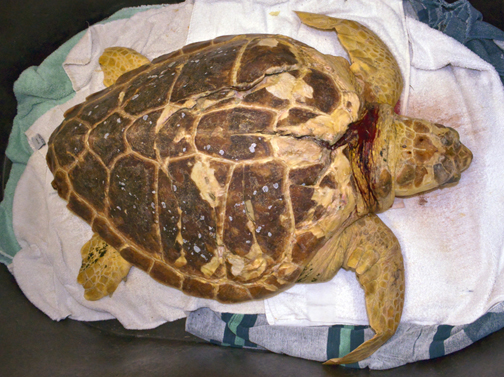 CC-KLC-12-10-29-01   Loggerhead   81 pounds
Photos by Teresa Kelly NCARI 

This loggerhead was reported by a phone call from "Zach" on a beach in Southern Shores at approximately 5PM on Monday, 10/29/12.  He and a few other beach goers were able to carry the 81 pound sea turtle off the beach to Zach's truck where KC (Karen Clark of NC Wildlife Resources Commission who is Program Coordinator at Outer Banks Center for Wildlife Education) met him at the beach access. KC transported the loggerhead to her home due to closure of the bypass (HWY 158). Reminiscent of 15 years ago, he went home with his caretaker. Zack (the loggerhead, not his rescuer) was very lethargic, his carapace was cracked in multiple directions, and there was some scar tissue on his neck and flippers.  He was put into KC's little shed/garage room and slowly warmed through the night. The next morning, 10/30/12, he was transported to Roanoke Island Animal Clinic for a physical checkup, reptilian blood work and x-rays, as all sea turtles are before being brought to N.E.S.T. Rehab. Zack was then transported to The Karen Beasley Sea Turtle Hospital and Rehabilitation Center, Topsail Island, NC.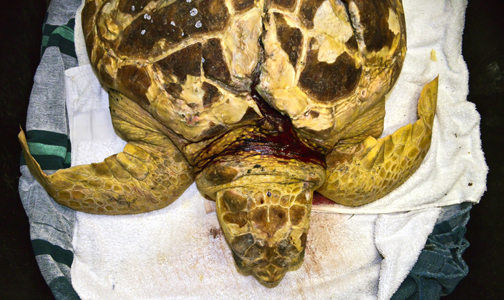 We thank Jean Beasley, Director of The Karen Beasley Sea Turtle Hospital and Rehab Center, for taking Zack and hope to be able to update you of his progress on the N.E.S.T. Rehab Blog. Equipment and space constraints make it difficult for us to care for turtles with carapace fractures. Once our rehab expansion is complete, we hope to work towards treating similar cases. Thanks to Zach and his friends for their awareness of our amazing ancient mariners who are now, after thousands of years, unfortunately dependent on us for their survival.