Momma sea turtle laid a perfect nest.  A wonderful part time resident, Eleanor, saw the tracks on her early morning beach run.  She excitedly called the NEST Hotline, and a team was quickly dispatched to the site.
With perfect crawl tracks , body pit and thrown sand it was easy to determine where the eggs were located.  The team began digging and after just a few tries, Lilly found the egg chamber.
The team went to work placing temperature data loggers, taking measurements and establishing a perimeter.
Nest #39 responding team happily posed for a group picture and eagerly await the emergence of hatchlings in a couple of months!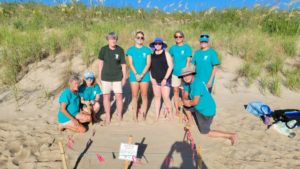 nest number: 39
town: Duck
date eggs laid: 08/08/2022
actual emergence date: lost to Ian
live hatchlings: none
total eggs: unknown
See all active nests