Updated!!
Ace ATV rider Billy C found two nests today (one in Kitty Hawk and one in Kill Devil Hills) after nearly three weeks of 0000 nests in the south end of our territory. Congratulations Billy!!!!
This nest was very close to current beach nourishment activities so needed to be relocated.  In the picture below you can see the beach nourishment dredge offshore from the nest.
This mama turtle came on and left the beach using the same exact path obscuring clues and making it tough to find the eggs!!  But our expert team led by Murph and Lynn found the eggs, installed equipment, collected samples and roped off the site.
As the team found the nest they were surprised with the unusual finding of an egg with six yolks at the top of the nest. Since eggs with multiple yolks are not viable this egg was used for the DNA sample.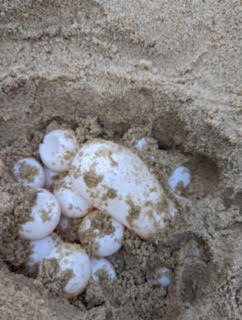 nest number: 42
town: Kitty Hawk
date eggs laid: 08/25/2022
See all active nests