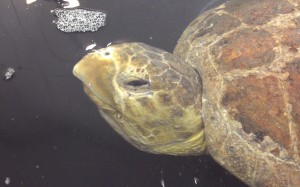 CC-KRC-12-08-17-01  "EL"  140 lb
El has been eating better but still not enough to increase her weight. Her weight on 9/27/12 was 122.54, a loss of 6.82 lbs during the previous two weeks. Her food consumption is increasing slowly. Loggerheads in the wild normally eat live crustaceons but will eat fish. In Rehab we do not have the luxury of live food so there is often a transition of the type of food while trying to initiate the desire to eat. El started eating soon after her arrival but has yet to reach the amount of food she needs for appreciable weight gain.
El continues receiving her broad spectrum antibiotic injections to help heal cuts, scrapes, and ulcers in her carapace and plastron and to prevent any secondary infection associated with those.
All of us love caring for El. She continues to be our large, gentle sea turtle. Her next weigh in will be around 10/11/12.