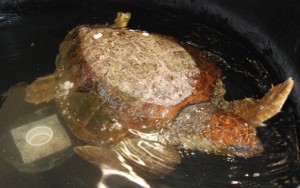 CC LLB 12-10-09-01   Loggerhead  154 lbs
Lou, this 154 lb. loggerhead, stranded in Buxton on the sound side near Pamlico Inn 10/09/12. Seems that Lou Browning* moved this big guy across wetlands and up a 30 foot hill…not in the light of day. Christian got a call from Lou saying this turtle was 250 pounds. Of course, it is easy to over-estimate weight in that situation! We're amazed Lou was able to get Lou the Loggerhead up the hill! In the meantime, Christian Legner and I were thinking that this turtle will not be able to rehab here…too big for the tanks. Also, this was the day Christian was leaving early to move on with her wedding, occurring this Saturday 10/13/12. Crazy day!
Lou Browning arrived with Lou the Loggerhead, weighing in at 154 lb. so he fit into the Rehab tank. Xrays show a fish hook in the G.I. track (probably the stomach). That is a difficult area to access surgically or attempt to remove an object from via the esophagus by endoscopy. It appears there is a lot of gas-distension in the bowel (thus the left side of the carapace is higher than the right when floating).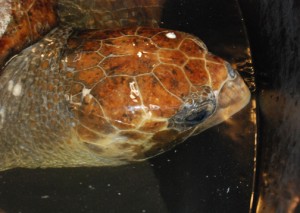 Lou appears to be nutritionally very good. He has refused the food we have offered but probably because he does not normally eat dead fish. His current weight is great and he is very active. This loggerhead arrived with many leeches on his carapace (upper shell) and leeches and leech eggs on his plastron (lower shell). They are dying from being in fresh water. Salt water is now being mixed with the fresh water and will be increased until it is 30 ppt (parts per thousand).  Lou has been started on antibiotic injections and will be observed and given TLC for a few weeks.
*Lou Browning is a licensed wildlife rehabilitator and founder of Hatteras Island Wildlife Rehab, www.hiwr.us