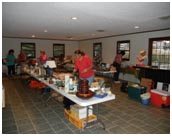 N.E.S.T. hosted a White Elephant Sale, Oct. 6, at the Old Nags Head Cove Club House. The Cove donated the space for the cause, which is much appreciated. It was a beautiful, sunny day on the Sound. Traffic was steady from opening to closing, beginning with a group of "salers" from Pennsylvania who showed up at 7:30 AM, ready to shop! Had a mix of local and long distance shoppers, including many loyal N.E.S.T.ers.
The core of about a dozen volunteers worked hard Friday evening to complete set-up and were rewarded by an extraordinary sunset.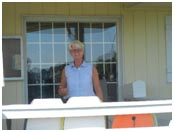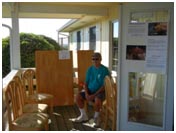 Fundraising Chair, Marie Musolino grinned the whole day,


especially when the news came that over $2,000 was raised.
And, the tee-shirt sales team brought in almost $600 of that
total. Way to go y'all!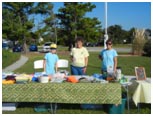 The proceeds from the sale, will be used to pay veterinary
expenses incurred during the rehabilitation of stranded turtles
at the Rehab Center at the NC Aquarium on Roanoke Island
(NCARI). Sea turtles can be kept in the rehab for many months
until they are healthy enough to release.
We had a real treat with the arrival of junior volunteer Marin
Ingram. She asked guests at her birthday party this summer to bring their spare change. She raised $105 for N.E.S.T. for the sea turtles. Thanks Marin!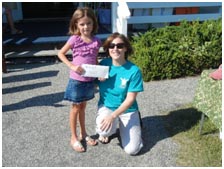 We currently have two sea turtles in the Rehab.
More details about their care are available in the
Rehab Blog.