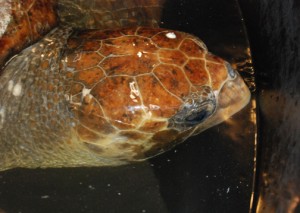 CC-LLB-12-10-09-01    Loggerhead  154 lb.
Lou is an amazingly beautiful loggerhead. The red-brown scutes on his head and over his eyes are so distinct. His water was raised from 10 to 20 inches for a while but then lowered so he could eat off the bottom of his tank and rest. He continues to float, left side higher than the right, so is unable to dive to the bottom.
Recently Lou defecated for the first time in Rehab, a major event , partially because x-rays have shown he has a fishhook in his gastrointestinal system which, hopefully, we might find as food moves through. Today Lou delighted (?) us 4 times, each time just after the water change or as we were finishing it. What a guy! Everyone is relieved that all that food is going thru, we just didn't expect so much in one day. No hook showed up, but we did have the pleasure of four complete water changes as opposed to the usual one.
CC-KRC-12-08-17-01  Loggerhead  140 lb.
As for El, she's quite the pooper, too. Until today she would stop after eating for a while, poop, take a 10-20 min. nap, then eat more but wanted to be tong-fed at that point. Today she realized that she can eat AND poop at the same time. She is slowly increasing her intake and we're anxiously awaiting her "weigh in" next week
LK-KLC-12-09-24-01  Kemp's Ridley  10.56 lb.
The little Kemp's ridley, Hernando de Soto, remains the same and has an appointment this Wednesday at NC State Veterinary College in Raleigh. He continues to refuse food, resulting in being force-fed each Monday.