1/30/12 Morehead City:  Our three rehabbed sea turtles Romano, Jason #1, and Baby Buster were transported south to Morehead City. On 1-31-12 a charter boat captain took them to the Gulf Stream for release.
These could be photos of Jason #1 and Buster swimming away from the boat.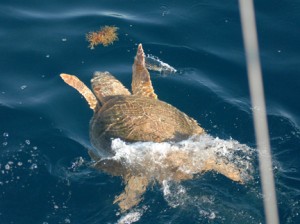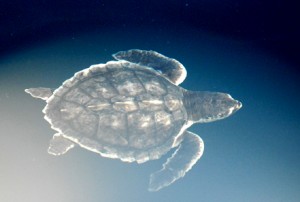 Among the group of turtles released that day were 2 greens with transmitters, Hampton and Lawson. Eventually, N.E.S.T. hopes to have funding for transmitters to attach to some of our rehabbed sea turtles so we can follow their journeys. The 2 green turtles released in the Gulf Stream 1/31/12 are part of NC Sea Turtle Cold Stunned Sea Turtle Monitering program. As of today, both have managed to swim to the waters near Hatteras. You can follow them at:
www.seaturtle.org or 
http://www.seaturtle.org/tracking/index.shtml?form=1&project_id=705&remove=1
 Enjoy their journey!