The Rehab Center continues in full swing.  We still have a full house of Greens, Loggerheads, and Kemps Ridleys.  Recent weigh-ins were very positive for Lou and Charlie, long-term care loggerheads.  They are fattening up!  Some turtles were released in early March. Christian Legner, Curator at the North Carolina Aquariums on Roanoke Island, has indicated that a few more may be releasable soon.  That is always cause for celebration!   Thanks to the efforts of a great group of volunteers on Hatteras Island, and their friends in the community and local high schools, we have saved quite a few turtles this season.  They continue to check the beaches every day.  Most of our turtles are found on the soundside of Hatteras.
---
The Education Team gathered the first of February at Elayne & Hugo's to review our Spring and Summer schedule of events and projects. Great camaraderie and positive planning by all with 22 in attendance and 11 out of town emailing their thoughts.  Among the spring activities where N.E.S.T. will be represented are Earth Day at Jennette's Pier on April 20 and Outdoors Day at the Outer Banks Center for Wildlife Education on April 3.  See you there!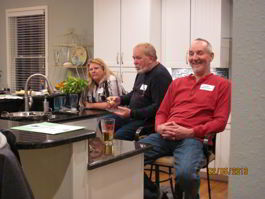 ---
The N.E.S.T. Ed Team visited the First Flight Elementary After School Enrichment Program.  Over 60 students participated in the event where turtle talk and fun was abundant!
Marilyn Seal, Education Committee chair, presented a program emphasizing the role of the sea turtle in our ocean ecosystem for the first and sixth grade students at the Hilburn Academy in Raleigh, NC.  The 6th graders spearheaded a Service Project collecting towels for the N.E.S.T. sea turtle rehabilitation center and beach rescues.
Pictured below are James and Joe with the piles of towels they collected.  Thanks for your help y'all!
---
The Fundraising Team has printed a new youth tee.
Better get yours while supplies last! Click on Turtle Gifts for ordering information.  Our first fundraising event this year will be at the 11th Annual Outer Banks Bike Week April 20-28, 2013.  Look for us at the Harley Davidson dealership.
---
Preparations for the Summer Nesting Season have begun as well.  The ATV teams are forming and John and Chris are working on getting the equipment ready to go.  We are also looking for another new or gently used ATV to replace an aging one.  Any offers would be welcome!
Karen Clark, Program Coordinator for Outer Banks Center for Wildlife Education and N.E.S.T. Science Advisor for beach activities, has scheduled some new volunteer classes in natural history, stranding response, and nesting response.
Things are getting very busy!