(Post shared by Buster Nunemaker from the NC Aquarium on Roanoke Island).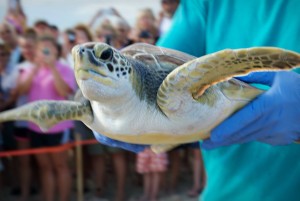 To see some great pictures of the release please visit OBX Life Photography, we are very grateful to them for capturing all of the great moments!! (Unfortunately we are having issues with our website in regards to photo viewing, so this is the best place to see all of these wonderful photos).
Threatening skies did not discourage over 400+ visitors, locals and volunteers who attended the release of 3 green sea turtles by the NC Aquarium on Roanoke Island's Sea Turtle Assistance and Rehabilitation (STAR) Center and the Network for Endangered Sea Turtles (N.E.S.T.) on the beach in Nags Head Monday, August 03, 2015.
Augie, who had been in the STAR Center for over 2 years, with an open front flipper fracture, was fitted with a splint made on a 3-D printer by members of the North Carolina State University, Center for Marine Sciences and Technology and STAR Center staffs. Their involvement was a highly successful inter-departmental collaboration, and everyone involved is excited at the prospect of further developing these techniques in aquatic animals. Augie tolerated the splint very well, allowing ongoing care of the exposed bone on his flipper. The splint remained in place for 40 days, then was removed when the flipper was palpably stable. For the other 2, Sea Biscuit and Crab, their short stay in the STAR Center were highlighted by daily care by STAR Center and N.E.S.T. staff and volunteers, while feasting on blue crabs and other nutritious foods prepared for their eventual return to the ocean.
As the release progressed and it became Augie's turn, the closer to the ocean he got, the faster his flippers seemed to gyrate. Once released into the surf, Augie surfaced several times, popping his head out of the water as to say, "Thank you for treating me so well while I was in your care," then he disappeared below the surface to be free once again, in the sea where his life began.
The NC Aquarium on Roanoke Island wants to recognize the Town of Nags Head, Nags Head Police, Network for Endangered Sea Turtles and all the people who attended the release yesterday morning. A big thank you to the Aquarium staff and volunteers for their efforts in conservation and sea turtle rehabilitation.
To find out how you can volunteer or make a donation to the STAR Center, email starcenter@ncaquariums.com or visit N.E.S.T.'s website at www.nestonline.org.
To view video footage, visit www.OuterBanksVoice.com.